2020 was a challenging and difficult year for us all. When I sat down last year to write my year-in-review blog post, I realised how much I had achieved in 2019 and was so excited for the start of the new decade. Little did we know that it would be a year of cancelled plans, lockdowns, socially distanced meet ups, and virtual games nights! And yet, for all the negatives that 2020 brought, it also brought a unique opportunity to reflect and learn.
As I look back at 2020, I've realised that I have lots to be grateful for so I wanted to take some time to reflect on the past 12 months. In this post, I'll be looking back at the highs, the lows, and the lessons I'm taking into 2021. As always, thank you for being here!
THE HIGHS
Despite all the cancelled plans, 2020 did have a lot of highs surprisingly. The biggest one was getting to visit the Grand Canyon in February. It's somewhere I'd dreamed of seeing for so long so it was definitely a 'pinch me' moment. We booked a spontaneous trip because I won tickets to Cirque du Soleil in January and we decided that Vegas would be the best place to see the show. A lot of people laughed when we told them we were going to the Grand Canyon during the winter months. Turns out, it was a good thing we went when we did!
In March, I had the amazing opportunity to attend Socality and Canon Canada's first Creator Retreat at the beautiful Kananaskis Mountain Lodge. It was an incredible weekend learning how to build a creative business, be a healthy creator, and improve our photography and editing styles. I met some really inspiring photographers and creatives and came away excited to develop my photography skills.
In May, I turned the big 3-0. I had so many ideas for my 30th but spending it inside in self-isolation definitely wasn't one of them! Nevertheless, Mat and my family and friends made it so special and I still had a wonderful couple of days. On my birthday, Mat organised the most amazing cake and a surprise virtual meet up with my friends here in Vancouver – very sneaky!
After 2 months of lockdowns and restrictions, things finally began to ease here in BC and we were able to explore locally again. Summer involved a lot of hiking around Vancouver and British Columbia and I ticked off quite a few hikes that I'd wanted to do for a while, including Panorama Ridge! We tried to hike this trail in 2019 but due to snow and an aggressive bear in the area, we weren't able to complete the hike. It was incredible to finally make it to the top and I think it might just have to be an annual hike now!
In autumn, I spent a lot of weekends camping with friends in BC. I took a trip to Tofino with Mat where we did an incredible scenic sunset flight, and hiked part of the Sunshine Coast Trail which was challenging but absolutely amazing. 
In October, my friend Christina and I booked a very last minute trip to the Canadian Rockies to see the larch trees turn golden. We spent 5 days road tripping around Banff, Yoho and Jasper national parks and had the most incredible time. Some of my favourite memories from 2020 happened during those 5 days in the Canadian Rockies. Driving the Icefields Parkway was one of the highlights of my year!
At the end of October, I had to make the difficult decision on whether to go home to the UK or not. I was very conflicted about travelling internationally but for personal reasons I needed to go home and see my family. I spent the whole time in quarantine at home with my family but it was worth it to see them and I'm so grateful I was able to go as I know so many families still haven't been reunited.
Although this year has been very different to what I'd planned, I really enjoyed exploring places closer to home and getting to see more of beautiful British Columbia. I am beyond grateful to have spent the year in Canada where we have so much beauty on our doorstep.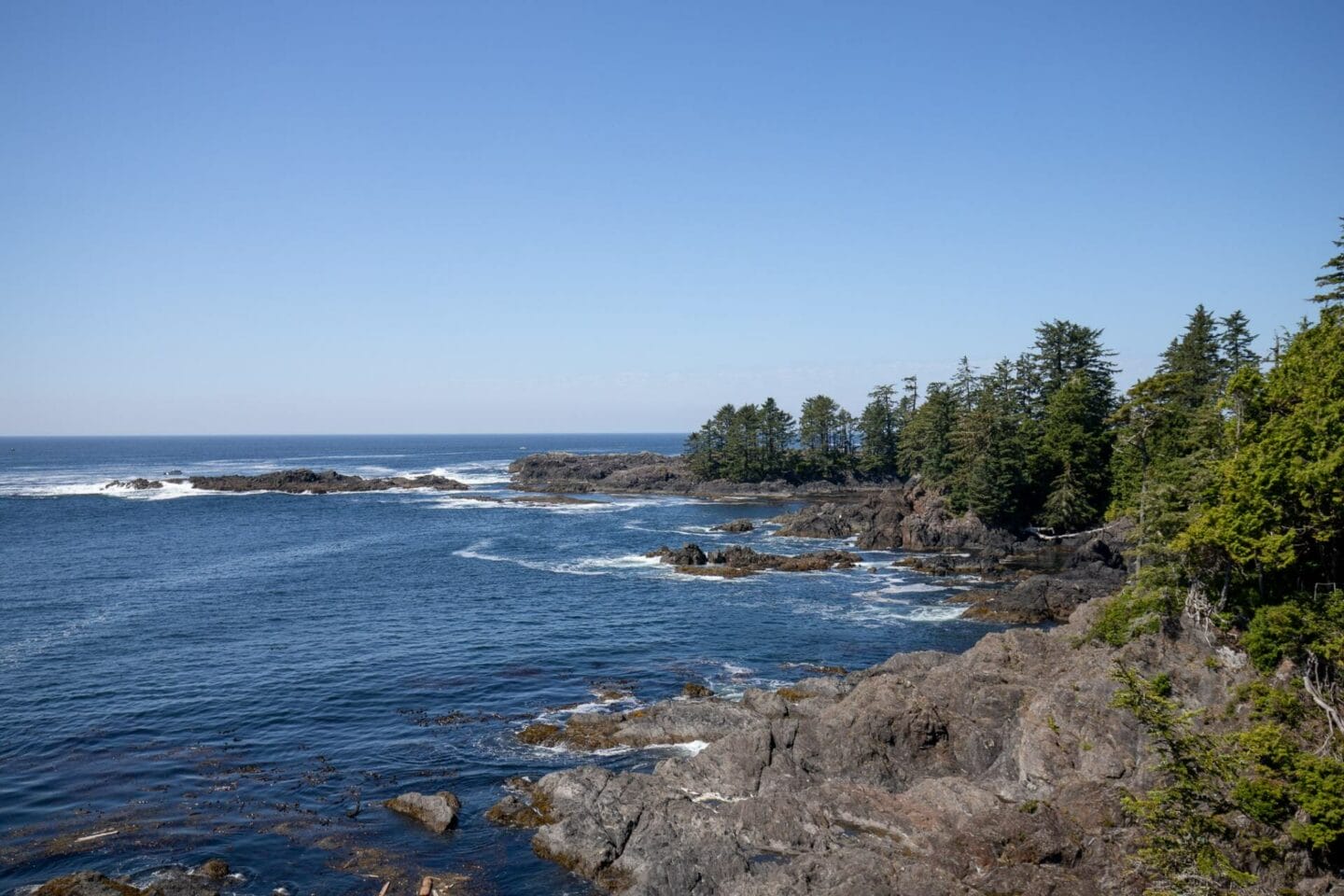 THE LOWS
To say this year has been challenging would be an understatement! I've struggled with home sickness and guilt for being so far away from my family. I'd always told myself that it was okay to move to Canada because I could get on a flight home if I needed to. But that all changed this year and like so many expats, I felt powerless and frustrated.
As flights got grounded, plans got cancelled. My trip home in April and my parents' trip to Canada in September became distant dreams. Travel came to a standstill and the inevitable happened to someone working in the travel industry – I got put on temporary leave.
It was an incredibly stressful time as I still needed 4 more months' work experience in order to apply for permanent residency. It was the worst time to try and find a new job and I felt helpless. My mental health hit an all-time low and there were a lot of days when getting out of bed was a challenge.
Mat was my rock during this period and he encouraged me to focus on my blog and my photography as a creative outlet. So I threw myself into updating my website and working on the goals I'd set myself – increasing traffic through SEO, creating a Pinterest strategy, and writing new blog posts.
In May, 2 days after my 30th birthday, I was asked to come back to work. It was a huge relief and in September I was finally able to apply for permanent residency.
Being so far away from my family was hard and despite all the highs, I spent a lot of 2020 feeling overwhelmed and anxious. I missed out on a lot of special occasions, including two of my best friends' having their first babies, family birthdays, and Christmas, and although we've been able to stay connected via Skype and Whatsapp, the realities of expat life became all too real.
WHAT I LEARNT IN 2020
I learnt a lot of lessons this year. Here are a few of the top ones I want to share:
1. Live in the present
I've always been a day dreamer and love planning things months in advance. In 2020, I had to accept that just wasn't possible anymore. The situation was constantly evolving and restrictions changed in a moment's notice. I was forced to take things one day at a time which wasn't easy but it's made me be more present and live in the moment, focusing on what's in front of me instead of dreaming about next weekend's adventures!
2. Be grateful for what you have
One of my goals for 2020 was to take time to reflect and practice gratitude. 2020 forced us all to stop, slow down, and reflect. It's easy to look at the things we think we've lost, but I realised this year that I have a lot to be grateful for – a nice home, good friends, a loving family, a job and my health.
3. Appreciate the little things, because they're really the big things
I've taken the time to look at what I took for granted in the past – weekends away, dinners at a friend's house, going to the cinema, having drinks at a bar. Not being able to do those things in 2020 has made me realise how much I took them for granted. Once we're able to do them again, I know I'll be more present and treasure those moments.
4. It's okay not to be okay
This year has been so hard for everyone and it's tested our resilience and our mental health. I've learnt that it's okay to tell my colleagues and my friends when I'm having a tough day, and ask for help when I'm struggling without fear of being judged or seen as weak.
2021 Goals
Setting goals last year helped me to stay motivated and focused. I found that setting smaller and more manageable goals last year worked well so here are a few of the things I'm working on this year:
Take time to reflect and practice gratitude
Read 12 books
Write 2 blog posts per month
Increase my blog traffic through SEO and Pinterest so I can qualify for Mediavine
Redesign my blog and add a section to showcase my photography and brand services
Reach out to some of my dream brands to discuss partnerships and collaborations
Explore more of BC and the Pacific Northwest
Improve my fitness so I can do more multi-day hikes
I hope you enjoy following along on my 2021 adventures, wherever they may lead. Thank you again for all of your support and encouragement. It means the world to me that you're part of my journey and I'm so grateful for this community.
I'd love to hear how 2020 was for you and your goals for 2021. Let me know in the comments below. Wishing you all a safe, healthy and happy 2021!
LOVE FROM STEPH