Paris is one of the most romantic and photogenic cities in Europe. There are so many instagrammable places in Paris where you can capture some of the city's most beautiful and iconic views. It's no surprise that Paris is so popular with photographers and bloggers alike. 
Paris will always hold a special place in my heart. It's where my love of photography really began. When I first arrived in Paris I didn't know anyone so I spent many weekends exploring the city with just my camera for company. Instead of feeling lonely, I felt a sense of freedom and adventure. I quickly fell in love with the Parisian buildings, the historic landmarks, the culture and the pace of life. 
Whenever I go back to Paris, I love retracing my footsteps, visiting my favourite spots, and exploring new parts of the city. Over the years I've found some beautiful spots so I've put together this guide to the most instagrammable places in Paris to help you plan your own trip. 
A guide to the most instagrammable places in Paris
There are so many iconic sights and great photo opportunities in Paris but the places below are my favourites. At the end of this article you'll find a map with all of these locations to help you plan your own trip.
1. Rue de l'Abreuvoir, Montmartre
Montmartre may be home to the Basilique du Sacré Coeur, the Place du Tertre and Moulin Rouge but if you venture away from these famous landmarks, you'll find a village steeped in charm that's quite unlike anywhere else in Paris.
With its winding cobbled streets, local shops, lively cafes and street artists, Montmartre is the epitome of French character. Despite being quite touristy in areas, Montmartre is a designated historic area and has managed to retain much of its authenticity and romantic charm.
There are so many beautiful, unique streets but my favourite is Rue de l'Abreuvoir. It's one of the most instagrammable places in Paris. There is also a beautiful pink house halfway up the street close to the famous, La Maison Rose, which makes a lovely backdrop for photographs. Just remember to be respectful of the residents that live down this road when taking photos.  
Address: Rue de l'Abreuvoir, 75018, Paris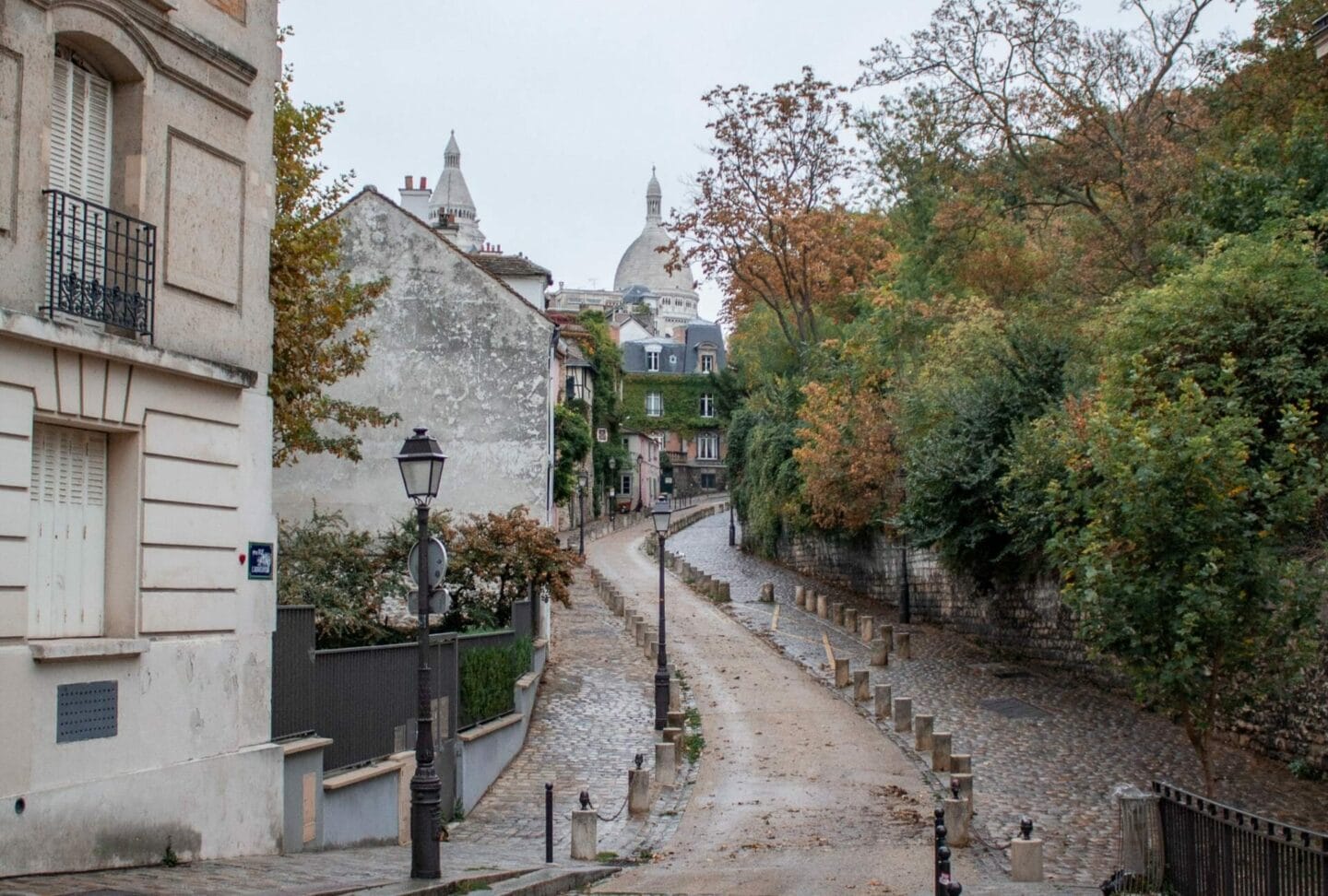 At the top of Rue de l'Abreuvoir, you'll find the pink fairy tale café-restaurant, La Maison Rose, an important part of Montmartre's history. The restaurant opened in 1905 and was popular with generations of famous artists, including Maurice Utrillo and Pablo Picasso. 
Its pastel pink façade and green shutters make it one of the prettiest spots in Montmartre but it's also worth going inside to see the vintage décor and sample some of the traditional French dishes.
Address: 2 Rue de l'Abreuvoir, 75018 Paris, France
3. View from the top of Le Printemps Paris Haussmann
One of Paris' leading department stores, Le Printemps Paris Haussmann is also home to a beautiful rooftop terrace with panoramic views over Paris. The restaurant-bar, Perruche, opened in July 2018 and has become one of the most popular rooftop bars in Paris. It's filled with exotic plants and is a green oasis in the heart of the French capital.
It's a lovely setting to enjoy a glass of wine and take in the view but if you go between 12 – 3pm they may not let you have a table unless you're ordering lunch. If you only want to stay for a drink then head down to the 8th floor and you'll find an exit to a smaller terrace through the food hall. Here you can order a drink at any time and enjoy the same view as the 9th floor!
Address: Printemps de l'Homme, 9ème étage, 2 Rue du Havre, Paris
4. View from the top of the Arc de Triomphe
Although it is far from the tallest building in Paris, the top of the Arc de Triomphe is still one of the most instagrammable places in Paris. The Arc is situated at the centre of Place Charles de Gaulle (historically known as Place de l'Étoile), a large roundabout where 12 avenues converge. This central location offers incredible views down the tree-lined avenues out towards la Défense, Place de la Concorde and Montmartre.
Looking down from the top deck, you can truly appreciate how impressive and grand these avenues are. It's a popular spot so be prepared to queue and make sure you give yourself enough time to buy your ticket and walk up the 284 steps.
Address: Arc de Triomphe, Place Charles-de-Gaulle, 75008, Paris
Built in the early 20th century, Pont de Bir-Hakeim is a two-level bridge with beautiful views of the Eiffel Tower and the Seine. You'll probably recognise the bridge from the film Inception. It's one of the most instragrammable spots in Paris due to its view of the Eiffel Tower.
The upper level is used by the metro (line 6), whilst the lower level is for cars and bikes. It is a busy bridge so if you want photos without cars, wait for the traffic lights to turn red!
Address: Pont de Bir-Hakeim, 75015 Paris
6. Coeur d'Honneur, Palais Royal
Although the palace is not open to the public, you can visit the garden and the beautiful courtyard, Coeur d'Honneur. The courtyard features 280 black and white striped columns which were designed by Daniel Buren and installed in 1986. 
The columns are a stark contrast to the classically designed French palace and have become popular with photographers. There are also beautiful stone columns which divide the courtyard into two where you can get some stunning photos when the light is right.
Despite the palace's central location, the garden is still a refuge in the heart of the city. The garden is laid out around a central fountain and lined with trees. It always reminds me of a smaller, quieter version of the Jardins des Tuileries.
Address: Domaine National du Palais-Royal, 8 Rue Montpensier, 75001, Paris
Trocadéro has a unique view of the Eiffel Tower and is one of the most instagrammable places in Paris. The 'Troca' balcony overlooks the magnificent Trocadéro Gardens which were built for the 1937 World's Fair in Paris.
These gardens provide a stunning backdrop for photos, especially when the fountains are on. At night, the Eiffel Tower lights up every hour on the hour. It's one of the most magical experiences in Paris and a lovely way to spend an evening in Paris. 
There are plenty of photo opportunities at Trocadéro. You've probably seen photos of people sat on the steps and on the corner of the balcony. It's difficult to escape the crowds even at sunrise so be prepared to share the space!
Address: Place du Trocadéro, Paris 75116
Place des Vosges is one of the oldest squares in Paris and one of the most beautiful. The symmetrical square is lined with striking two-storey buildings made of red brick with rows of stone, steep slate roofs and dorm windows.
The buildings are constructed over arcades which are now filled with coffee shops, restaurants, art galleries and expensive antique shops. The garden is a lovely place to enjoy a picnic on a sunny day and the ideal starting point for a walk around les Marais, one of the most historic and charming neighbourhoods in Paris.
Address: Place des Vosges, 75004, Paris
9. View of Notre Dame from Pont de la Tournelle
Notre Dame is a jewel of Gothic architecture and one of the most instagrammable places in Paris. Sadly, it was badly damaged in April 2019 when a fire broke out. Restorations are under way to repair the cathedral to its last visual state.
Despite the damage, Notre Dame is still a beautiful place to visit and photograph. Whilst visitors tend to head to Île de la Cité to see Notre Dame Cathedral, I've always preferred the view from Pont de la Tournelle on the other island, Île Saint-Louis, which is only a few steps away in the 4th arrondissement.
Address: Île Saint-Louis, 75004, Paris
10. Quai d'Orleans, Île Saint-Louis
Continue along Pont de la Tournelle and you'll find yourself on Île Saint-Louis. The island feels like a small French village cut off from the rush of the city.
You'll find markets, bakeries, fromageries and cafes overlooking Île de la Cité, filled with people enjoying a coffee or a glass of wine and watching the world go by. Whilst much of Paris has changed over the years, this little island has kept its original charm.
Walk along Quai d'Orleans towards Pont St-Louis and you'll find some lovely spots to sit on the wall. It's one of my favourite spots to get photos with Notre Dame in the background without all the crowds!
Address: Quai d'Orléans, 75004, Paris
Pont Alexandre III is probably Paris' most elegant and extravagant bridge, decorated with lions, cherubs, nymphs, sea monsters and many other creatures. There are two monumental pillars at both ends of the bridge with golden winged horses mounted on top.
It's a beautiful bridge to photograph from all angles but I like to head down the steps on to the river bank to capture the detail of the bridge without the crowds. Standing on the bridge on the Champs-Elysées side with the Eiffel Tower in the background also makes for a beautiful photo.
Address: Pont Alexandre III, 75008, Paris
12. View of Pont des Arts from Pont Neuf
Pont Neuf is considered to be the oldest stone bridge in Paris. It connects the western end of Île de la Cité to both the right and left banks. The arched stone bridge is a beautiful sight in itself but it also offers incredible views of Pont des Arts, la Louvre and le Grand Palais.
Address: Pont Neuf, 75001, Paris
Although it is a very popular place and usually crowded, la Louvre is still one of my favourite photo spots in Paris. The contrast between the old and the new provides plenty of opportunities to take some truly creative shots.
For something a bit different, head into the one of the mazes and get a shot looking back at la Louvre over the hedges. Not many people go to this spot for photos so it's much quieter and you can cleverly cut out all the crowds from your photos!
Address: Rue de Rivoli, 75001, Paris
For a unique aerial vantage point of the city, take a walk along the Promenade Plantée, an idyllic, leafy footpath built on a disused railway line.
Stretching from Bastille to the Bois de Vincennes, it's a magical and peaceful walk away from the busyness of the streets below. It offers a different view of the city and a spectacular panorama of the Parisian rooftops. There are steps up to the promenade along the route but the best place to start is at the crossroads at Avenue Ledru-Rollin and Avenue Daumesnil where you'll find a staircase between the Viaduc des Arts.
Address: 1 Coulée Verte René-Dumont, 75012, Paris
This list of instagrammable places in Paris wouldn't be complete without this iconic landmark. Situated at the top of the Butte Montmarte, Sacré-Coeur has one of the most beautiful panoramic views over Paris.
There are so many places to capture different shots of Sacré-Coeur. One of my favourite angles to photograph is on the top level looking up at the basilica. You can cut out the crowds and create some interesting photos. Another popular spot is on the lower level next to the pretty carousel looking up at Sacré-Coeur.
Address: 35 Rue du Chevalier de la Barre, 75018, Paris
Location Details
You'll find all of the places listed in this article on my map below. To save this map, click on the star on the right hand side of the title. This will save the map to "Your Places" in the Google Maps so you have it for your next trip to Paris.
Where next?
If you're looking for more Paris inspiration, you may want to read my guide to the best panoramic viewpoints in Paris. 
One of my favourite areas in Paris is Montmartre and I always recommend spending a day just wandering around the village. It is such a charming neighbourhood to explore. I've written an article on the best places to see in Montmartre, including the beautiful Rue de l'Abreuvoir.
COMMENT AND SHARE
Where are your favourite photography spots in Paris? I'm always looking for new places to explore whenever I go back to Paris so leave a comment and let me know – I'd love to hear from you. If you enjoyed reading this post, make sure you pin it to Pinterest so you can read it again later or share it via social media.
LOVE FROM STEPH
[left]


[/left]
[right]


[/right]